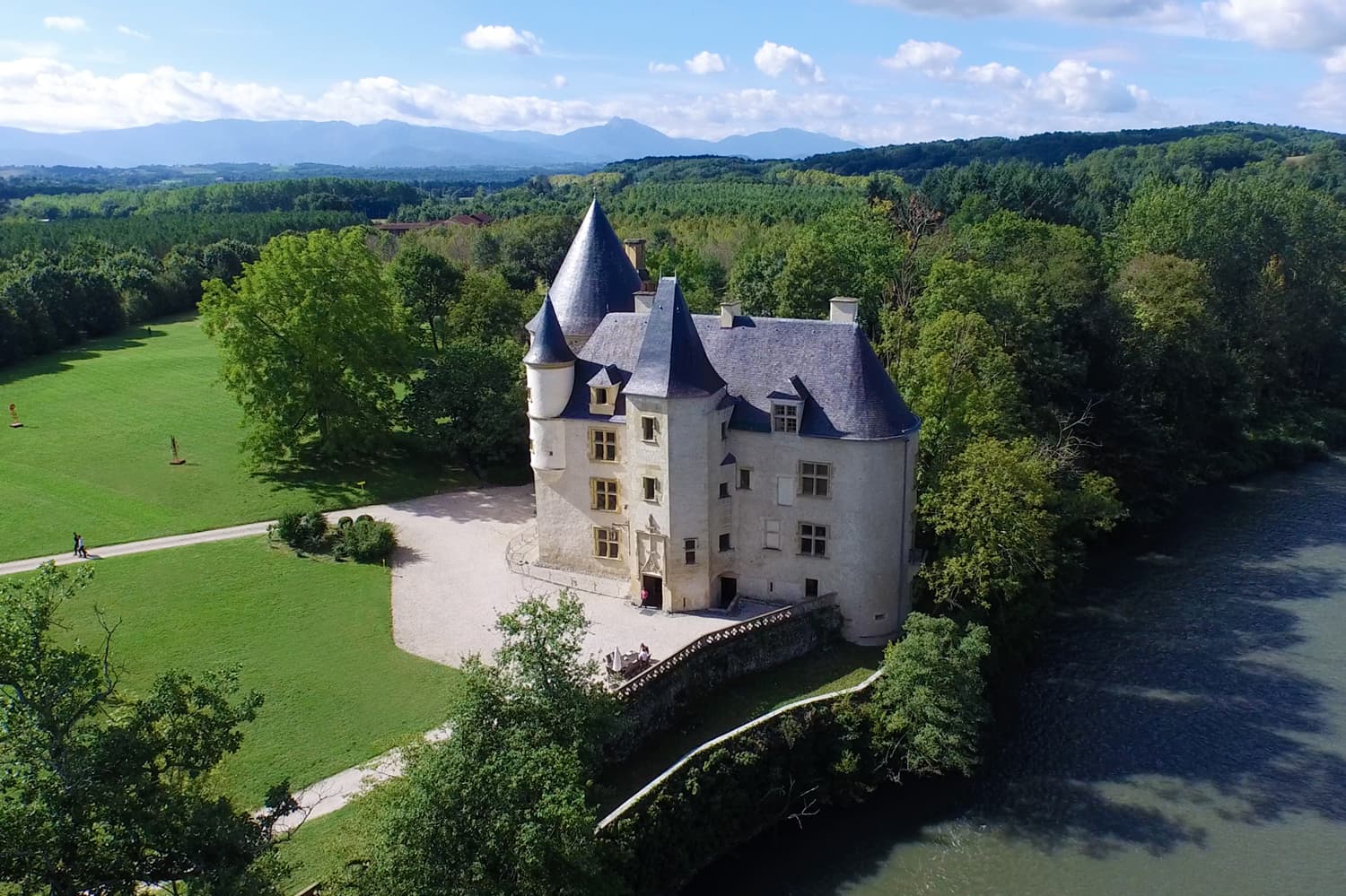 Press and Media
Press and Media coverage about Pure France and our holiday rental properties. We have been featured and included many times in the national and popular press, here are some examples…
36 Press and Media posts

The most beautiful guesthouses in France.
Le Figaro writes about Château Vivy de Saumur with its quality accommodation over 2 floors in a superb château.
Property featured

The great big summer gamble.
Do you opt for a classic UK break or take your chances on a heavily discounted but less than certain foreign escape? You'll want to check out these options from Chris Haslam before deciding.
Property featured

25 great South of France escapes.
Pure France are featured in The Times' good-feeling article.
Property featured

The best French gîtes and villas to book in 2018.
France special 2018 - From Brittany to Provence, self-catering has gone upmarket - here are 20 stylish hideaways to prove it.

Maison Lamonzie is a rare and precious thing, a honey-stoned house for just two people, it's been beautifully restored and has a 36ft pool and garden. Inside, a pebbled floor in the salon-cum-kitchen offers foot massages while you cook. Outside, there's that most luxurious of all commodities - space. The village setting in Lamonzie-Montastruc is handy: it's only a two-minute walk to your morning baguette. Bergerac airport is a 15-minute drive away.
Property featured
Some of the most beautiful castles in Europe.
Vogue Japan has chosen Château Garonne as one of the travel destinations not to miss this year in its lifestyle and travel section
Pure France properties featured in The Sunday Times.
As chosen and featured in The Sunday Times.

Pure France properities as chosen and featured in The Sunday Times.

A selection of county homes, villas, manor houses, mill's, homes and châteaux that have been chosen and featured by the "The Sunday Times" newspaper.
Properties featured

Woodland wonder.
This couple brought the magic of an enchanted forest to a beautiful French château.

500 years of history at Château Garonne.
Recently Château Garonne celebrated its 500 years of history. It's the opportunity for "La Gazette" to trace the life of this site, which has experienced several generations of owners… and several years of restoration that turned it into a little gem today.

Rustique charm.
Refurbishment and plush atmosphere.

The Little House on the prairie… Mounicat has been owned by seven generations of the same family. The priory was built in the middle of a 3-hectare meadow located in the heart of an orchard and hilly region.

Mounicat, a former 12th Century priory, is surrounded by meadows and woodland.

Vogue says I do...
Château Garonne has been organising unique destination weddings since 2015. The château is currently celebrating 500 years of history. It is set on the right bank of the Garonne river and surrounded by beautiful woods. Privacy, luxury and the direct involvement of the owner make it 'The exclusive Wedding Venue in South-West France'. Direct fights to Toulouse also make it any easy destination.
Where to find the perfect French villa this year.
Type "French holiday rentals" into Google and you get 3.1 million results (in 0.458 seconds). Either you and the family are going to spend the next two or three generations researching your summer holidays - or you're going to have to thin these down a little.

Pure France (020 3514 2359; purefrance.com) Over 500 rentals, many but not all expensive, across much of France.

Château Garonne featured in Brides's March 2018.
Exclusive destination weddings.
The best French gîtes and villas 2018.
From Brittany to Provence, The Sunday Times have confirmed that self-catering has gone upmarket and highlighted 20 stylish hideaways to prove it, including 2 Pure France properties...

They have referred to Maison Lamonzie in the Dordogne as a rare and precious thing, beautifully restored with a 36ft pool and garden for just two people.

And La Haute Bastié in Provence as a simple early 19th century house with an airy double-height sitting room, views across the Var and 12 acres of south-facing tranquillity.
Property featured

Our expert guide to the Languedoc.
After 30 years of living in France, our correspondent has finally concluded that one region beats all the rest.
The best of France 2015.
Pure France property Maison Lamonzie was featured in The Sunday Times article of France's 20 hottest hotels and villas, coming in at number 12. The one bedroom villa is a rare find as a holiday house for a couple with its own private pool.
Property featured
Essential Provence.
The Sunday Times share their tips for a holiday in this popular region of the South of France and recommend Pure France as a leader in our field for Provence holiday rentals.
France summer holidays guide - Self catering and villas.
Telegraph Travel's France experts recommended Pure France in their 2015 France summer holidays booking guide, for self-catering holidays in Provence, Côte-d'Azur, Languedoc-Roussillon and Dordogne.

40 best holiday villas and apartments in Europe.
The Guardian include Maison Lamonzie in the self-catering section of their travel supplement, in their article of the 40 best holiday villas in Europe. Chosen for the interior as well as the lovely chic, decked pool.
Property featured
The Dordogne - a step by step guide.
The Sunday Times gives a guide for how to get the most out of a visit to the Dordogne region of France.
Featured is Maison Sainte Croix, a 3 bed traditional farmhouse with heated pool.
Secrets of a happy family holiday.
Pure France are described as among the best for top-end choice, clarity and sheer number of web-site photos, in this article written by The Telegraph, about how to have an enjoyable holiday with young children.
50 best villas.
The Sunday Times names their 50 best villas in 2014 and picked a total of three Pure France holiday rental properties. They included Maison Éluard, a fabulous contemporary villa with stylish interior and exterior space to sleep 8 people in 4 bedrooms
Property featured
50 sensational villas.
The Sunday Times travel section chose a Pure France property in their list of the best villas, Europes finest properties - for couples, for kids or for all your mates.
At number 10 they chose Clercy, a stunning house sleeping 8 in the town of Limoux.

Great Late Deals.
Pure France special offer at Maison Adour was listed in Manchester Confidential's "Great late travel deals".
Property featured

Take a house party to the Carcassonne Festival.
In The Times newspaper's 'Late deals' section they recommend that you take a house party to vacation rental farmhouse Ferme de la Madeleine, an 8 bedroom property suitable for a large group holiday. The property sleeps 16 people when combined with neighbouring Maison Causse and is close to Carcassonne with its medieval citadel and summer fesitvals and events

Let the good times roll.
The Sunday Express looks at the benefits of using an online booking agent to advertise your holiday home.
They singled out Pure France as for our excellent Google rankings and service, stating 'Its Google rankings are one of the highest of any French property agency on the internet, with advertising in national press accross the UK and France'.

French rusticity without the Provence markup.
In the global edition of the New York Times, they explain how you can pick up a property bargain in the Languedoc region and renovate this for holiday rental. Our holiday rental country home, Domaine de Nérige, is featured.
Property featured

Our top French hideaways.
The Independent in Ireland chose 3 Pure France properties to list in their 'Top French Hideaways' from Provence to the Pyrenees. They were;
Properties featured

Late deals.
The Times featured Pure France in their travel section of the newspaper, advising readers to book early to secure the best properties.
House-party heaven.
Pure France property Le Manoir des Sines featured in the Sunday Times Travel section's House Party Heaven article, described as 'a ravishing complex of pale-stone buildings surrounded by orchards and sunflowers'.
This stunning country bastide has wonderful views, a heated pool and a hot-tub and is ideal for large group holidays in France.
Property featured

French fancy in the villa of your dreams.
London's City AM magazine wrote an article on Pure France and the properties we offer; 'the choice, grandeur and rental price of the properties is staggering'. They singled out our fabulous holiday rental properties; Domaine de Nérige, Domaine de Cyrano and Manoir des Sines.
Properties featured

Pure France property watch.
Pure France director and French property expert, Hugh Atkins, writes about the French holiday rental market and renters who are looking for a slice of the Gallic good life.
50 cool villas.
A Pure France property made it onto the list of '50 Cool Villas' by the Sunday Times in 2011.
Placed at number 13 was Le Domaine de Cyrano, a 7 bed wine domains with a pool, air con and a cinema to sleep 14.

Who inherits my French property?
As French property experts, Pure France were chosen to write a piece on French inheritance law for 'About Property' magazine as a helpful guide for property owners.

Be my guest in France.
The magazine for the hit TV show 'Place in the Sun' magazine featured the owners of a property in the Languedoc-Roussillon who recommend Pure France as their number one booking agent.
Guide to hotel and villas in France 2011.
The Telegraph issued a 'complete guide to booking a villa or cottage in France, including luxury options and cheaper accommodation in Provence, Brittany and Normandy.'
Pure France were listed highlighting our focus on properties with private pools and our large choice of properties in particular in the Languedoc region.

The best of rural France.
Julia Brookes finds 20 retreats for foodies, recluses and families in France.